today was the dog show and mum was especially excited to attend. she and dad usually go every year but ever since my big sis came along they haven't had time. this time was going to be really special. it was going to be addie's 1st dog show :) also, it was an important event in "dog awareness week" here in town. the river city cluster of dog shows was going to have a special guest...cesar millan, the dog whisperer! he was going to give out the trophy for best in show. mum managed to get some photos, a video and even his autograph! the best part was that she got to share some kind words with the fellow dog lover. she told him how thank the city was for his attendance and how san antonio needs a celebrity like him to help raise awareness of the over pet population problem. it was so cool! mum said that he stopped writing autographs and taking pics to acknowledge her and what she was saying. he told her how grateful he was to be a part of the event and how he wants to keep helping in any way he can. mum said there was even an auction of this huge poster with the 2009 dog awareness logo (its a cartoon of the dog whisperer in san antonio) autographed by cesar millan. there was a bidding war! i was so happy to hear that because all the proceeds go to ACS. they're trying really hard to make s.a. a no kill community by 2012 so they need all the help they can get. the best part was that the winner was in fact cesar millan! since i stayed behind, mum, dad and addie brought me back a souvenir :) i got some awesome dog bones. i think they're made out of some part of a boar. lol. well, whatever it is, i can't put it down!!! mmmm...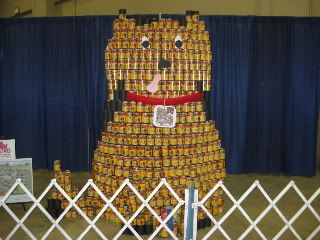 those were all donated dog food cans :)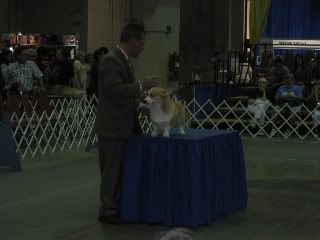 corgis represent!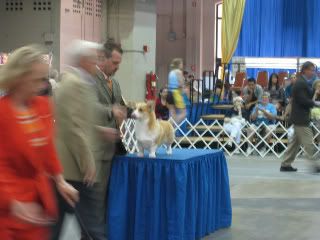 its a little blurry but you get the point. its a corgi!! this pup came in 4th in the herding group :)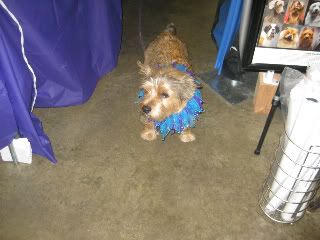 mum couldn't resist. this pup is way too cute!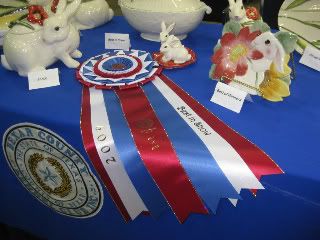 there's the prize for best in show!
and that's the best in show winner with cesar. what a lucky dog!